Bringing your old couches, chairs, bar stools, sofas & more back to their original (and sometimes better than original) condition!
Call Now For A Free Quote
Furniture Upholstery & Reupholstery on the Gold Coast
We know Furniture Upholstery is a lot of work, we've been delivering this for over 20 years. It includes furniture provision with paddings, new leather covers, springs, modernising the seats, etc. Upholstery is a well-known craft around the world, but specialists use different techniques to achieve great results for our clients. If you have any creative ideas, please share them with us as we often do very custom or bespoke furniture upholstery. You can ask if it's possible to make them a reality.
Furniture Upholstery is a wonderful investment, prolonging the investment in your original pruchase. You do need to consider a few key elements to make sure all goes to plan. For example, if you choose the wrong materials or colors, the overall look of the room won't be good. That is why you'd better trust the specialists and their opinion before you make any final decisions. (We wrote a blog post to help you on this one)
In fact, furniture upholstery is not something unknown and unusual, it started gaining popularity back in the 17th century. And it has not stopped developing ever since then. Lots of people turn to this service and for good reasons. But it is surely vital to find the right specialist. If you don'tt use a quality service or try to do something on your own, you risk ruining your furniture. The general look of your home will also suffer.
Our team is made of great professionals who always strive to develop their knowledge, and maximally satisfy clients' needs.
For over 20 years, we've increase the look, feel and value of leather furniture up and down the Gold Coast. With professional upholstery work  on your furniture can brighten your home and change the whole atmosphere of the room. Of course, if you want to receive high quality service, trust the most experienced furniture reupholsterers.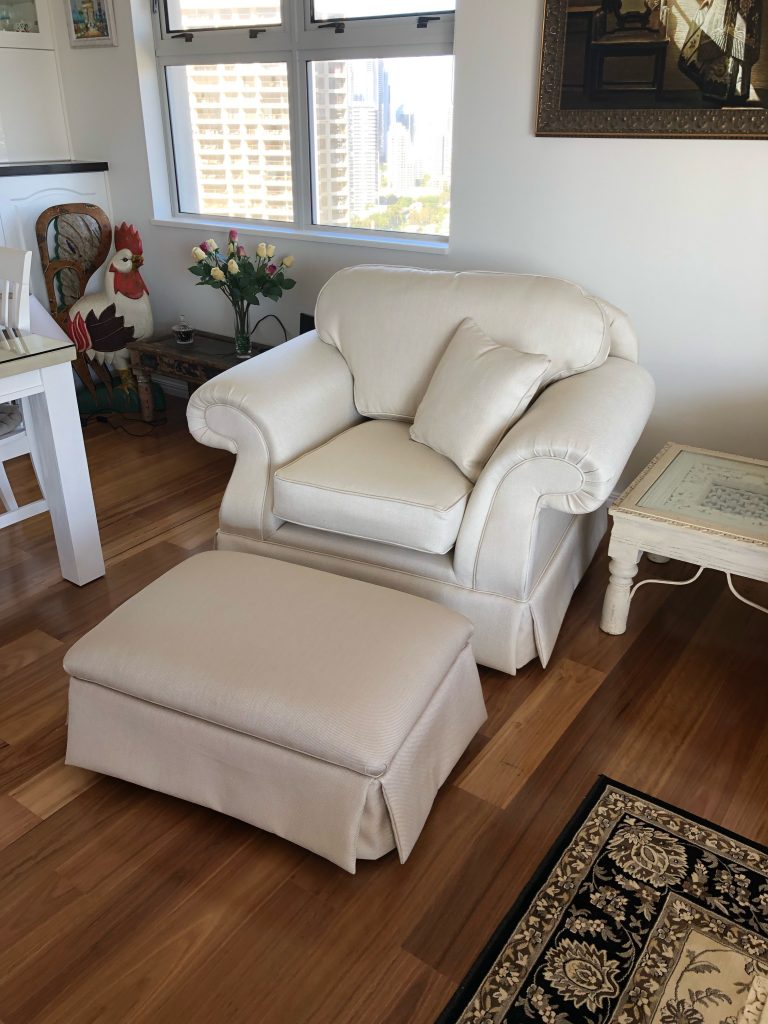 Check Out Our Gallery Of Past Gold Coast Upholstery Work
Our Diverse Materials and Techniques
Nowadays, we use a wide range of materials and other modern items to make your furniture both beautifully looking and comfortable. Bear in mind, it's only natural for your furniture to age over time but this is by no means irreparable. There is no need to choose the most luxurious materials, our friendly furniture upholsterer will help you pick something suitable for the type of furniture you own. 
It's thoroughly unnecessary to buy new and expensive furniture. You can have someone reupholster the old one and make it look stunning. Do not forget to consider the shape of your furniture and ask for advice. If you pick more colorful or pattern upholstery, it might not look so nice on your curvaceous chair or sofa. Of course it is not all about materials. When it comes to furniture upholstery it is the technique that matters because you might choose a company that owns the best materials but still end up disappointed with the service. 
Do You Have Outdoor Furniture?
In the modern world people like to spend time outside, so they buy outside furniture requiring . However, if you have furniture in your yard or garden, you must remember it's also important to take good care of it. Once you have it upholstered, it will look new and fresh, and surely last longer. 
Except for regular furniture upholstery, we can also offer you an easy solution for the preservation of your furniture outside. You should take action because of the weather, especially the rain can simply ruin it. We can offer you special furniture outdoor covers to keep it dry and protected. You shouldn't have any doubts as our company is your most trusted source of both quality upholstery and protection for your furniture. If you are keeping some of your furniture or joinery outside, you can easily get outdoor furniture covers made to order. This could solve your problem forever. 
Our company aims to provide you with affordable and top quality service. We suggest you have no hesitation in upholstering your furniture. It will certainly have a positive effect on the overall look and atmosphere of your home. Every client of ours can now get quality furniture upholstery for a reasonable price. You shouldn't wait, but meet with one of our upholsterers. You can discuss all details and decide what is appropriate for your home.
To get your furniture reupholstered today, talk to our Gold Coast upholstery team on (07) 5655 7654 or use the form on the website to send a direct request. Our team will try to get in touch with you as soon as possible. We are always open to new suggestions and ideas.
Fill In The Enquiry Form Below!